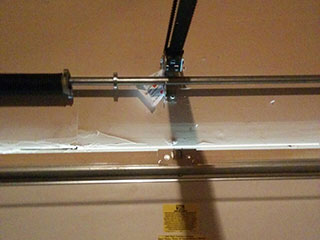 Your garage door springs are responsible for the hard work involved in hauling your door up and down every day. These springs are put under immense pressure each time they're used, and are subject to a great of deal of force. They're built to last but the intense strain they're subjected to leads to wear and tear over time. If they should break, your door will become unusable so it's essential to get them replaced as quickly as possible.
Why Do They Break?
The most common reason for spring failure is wear. Each time your door opens, the springs carry the door's weight. This puts them under a lot of pressure, and over time they'll start to lose strength. If they continue to wear, springs can reach a point where they're unable to bear the load any longer, and they'll snap.
Can I Avoid Them Breaking?
Springs often give warning signs that they're starting to wear out. If you notice that your door is wobbling when it moves, or making a lot of noise, this is often a sign that the springs are losing strength. Similarly, if your door isn't able to support its own weight, this also often means that the springs are wearing out - it's time to contact our team of professional experts.
What Should I Do Next?
If you think your springs are wearing out, your first step should be to contact us. Our trained technicians will be able to assess the condition of your door springs and advise you on the best course of action. You shouldn't try to fix or replace the springs yourself as it can be very dangerous - it should only be attempted by trained professionals.
Professional Replacement Services
We provide a wide range of replacement door springs, both torsion and extension, and our technicians are highly experienced in their safe, hassle-free installation. Contact Garage Door Repair Powder Springs today, and find out what we can do to help you!
You can also count on us for:
Roll Up Garage Door Services
Opener Sensor Replacement
Galvanized Torsion Spring Installation
Maintenance Garage Door Torsion Spring