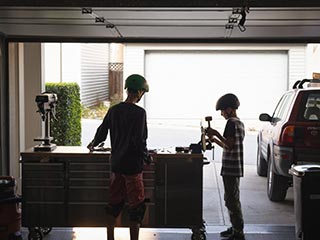 Whether you're considering a new garage door or plan to fix or improve your old one, our local Georgia technicians can help. Find out more about us below.
Any Kind of Door Model or Component
We handle any type of doors, from damaged and old ones to manual, roll-out types and modern garage doors that function with an opener. Further, we repair broken springs, rollers, cables, hinges, openers as well as sections and panels. We stock a full inventory of parts for nearly all types of doors manufactured by various reputed brands and our list of bolt-on accessories is also comprehensive, helping you add a touch of uniqueness to your system.
Professionals Through and Through
We believe what marks a professional from an amateur is the ability to problem solve and get to the root of a problems. We don't resort to quick fixes and always thoroughly evaluate the system and any concerns brought to our attention.
How We Work
After years of serving homes all over Powder Springs, we have developed go-to, reliable procedures for handling customers' problems. Our skilled technicians work precisely and accurately and always aim to see customers as quickly as possible, especially when it is an emergency.
Effective And Lasting Solutions
We never shortchange customers with quick fixes - we enjoy addressing problems head on! This area of work is our specialty and we are proud of what we have accomplished so far. Our experienced technicians have fixed hundreds of minor and major garage door issues and have earned themselves a solid reputation.
We're Here For You
Your satisfaction is our priority. We guarantee that we'll deliver high quality products and the best service we can, whether you're in need of an installation or repair job. Contact our team today at Garage Door Repair Powder Springs to discuss what we can do for you. You can count on us to get the job done right, leaving you with a hassle-free and fully functioning system, hopefully for years to come.
Contact Us Today!
Local & Experienced Technicians