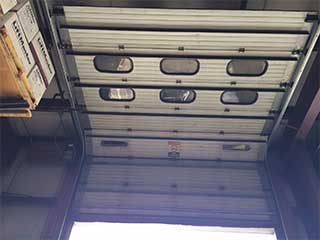 We are a local Georgia based provider of garage door repair, maintenance and replacement services. Whether you're a business or home or in need of spring repair, door alignment or installation of new panels, we can help.
Flexible Appointments & Emergency Services
Our service technicians are ready to make repairs on the same day or during weekends if they've got availability. You may be facing a problem with your opener or find that a spring has broken - we understand how much of a hassle it can be to be confronted with a non-functioning door which is why we offer an emergency service for when you need us fast.
Replace Multiple Parts? We Are A One-Stop Service Provider
Your door system is made up of multiple moving mechanical and electrical parts. So, naturally, as time passes, there will be wear and tear or damage. Although minor damages may not affect the operation of the door, they can cause problems in the future. Therefore, it is always a good idea to replace parts that are past their expiry date. Our diverse range of replacement services empowers customers to get their doors refurbished without having to contact multiple providers. We can replace all parts.
Need to Weld Loose Hinges? Our Experts Are Here
Hinges are mechanical joints which hold two panels together using nuts and bolts. Since they are under pressure during opening and closing of the door, over time they tend to get loose. While this can lead to annoying creaking noises, it can also damage the panels or their enamel. Hence, it is always recommended to periodically check these hinges and repair them if needed. We offer complete hinge repair and lubrication services. Our team also undertakes welding of broken hinges so that they never come out of the panels again.
Panel Remodeling & Replacement Experts
Changes in the weather can have adverse effects on garage door panels. In rainy season, water droplets can cause the panels to erode and make them lose their color. And such dull, worn-out panels are not a good sight. If such faulty or bent panels are not remodeled or replaced in time, they can damage the entire door or even other connected parts. In order to ensure that panel damage does not create more problems for you, it is advised to remodel them once every year depending upon the make. Our team also provides custom-made doors so that customers can choose from a variety of options and can be a little creative to impress the neighbors.
Periodic Quality Checks to Ensure Your Safety
A garage door has to be maintained from time to time so as to ensure its proper functioning. Since it is made of multiple mechanical parts, some of which are heavy, the fittings and connections need to be checked regularly to avoid any accidents. Quality checks and safety tests carried out by our experts at Garage Door Repair Powder Springs are known to have effectively improved the life span of our customers' doors - a reason why they are in high demand. We recommend maintenance check be conducted twice every year to warrant smooth functioning.
Contact Us Today
Contact us today for solutions to your related problems. You can get in touch with us simply by giving us a call or via our website.
Our team can also take care of:
Track Replacement & Repair
Torsion Spring Adjustment
New Garage Door Clickers & Remotes
Garage Door Troubleshooting Services